About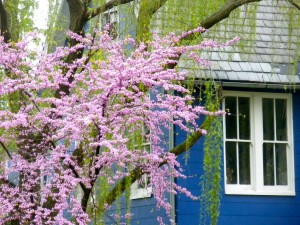 From pastoral Victorian to urban hip, Waverly is a village of former estates, quaint, quirky converted summer cottages, simple frames and duplexes in assorted sizes and shapes as well as rows of solid daylight brick homes featuring glassed in sun porches on little tree-lined lanes and broad boulevards. Better Waverly is a north central city crossroads community whose boundaries are Exeter Hall on the south, Greenmount Avenue on the west, East 33rd Street on the north and Loch Raven Boulevard on the east. Better Waverly is one of the most eclectic neighborhoods in Baltimore City.
For a walking tour of the community, download our walking map.
Significant tree canopy and green open spaces scattered throughout the neighborhood help preserve Waverly Village's legacy of meadows, pastures, streams and woodlands way uphill of the port city where wealthy merchants came to escape the heat. Summer vacationers and shopkeepers added to the housing stock along the old York Toll Road, which became a Victorian village with its own Town Hall, now a historic landmark.
Mass transit paved the way for folks of modest means to move into red brick homes with green painted tile roofs built a century ago to the east of commercial establishments that now make up Waverly Main Street along Greenmount Avenue and its many side streets. The newest and tallest housing—there are no high-rises—belongs to the Stadium Place affordable senior citizen retirement community. On that site, for close to fifty years sports fans came to cheer on the World Champion Colts and Orioles at Memorial Stadium, giving 33rd Street a nostalgic magic ring. Stadium Place also features the city's first new YMCA in over sixty years. At this location, residents currently come out every fall to cheer on Baltimore Marathon runners at Mile 22 a/k/a the Eddie Murray Mile. At the top of a hill and next to Hopkins at Old Eastern High School sits Grace Turnbull's Good Shepherd Statue, which dedicates renowned Waverly poet Lizette Woodworth Reese, who captured the special character of this once Victorian village.